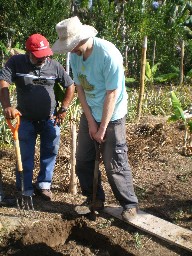 EcoBASE
Education in the Basics of
Ecologically Sustainable Agriculture

Current Location:
Dominican Republic,
Caribbean
---
EcoBASE
Education in the Basics of Ecologically Sustainable Agriculture

Learning to Grow a Better World
With food prices soaring, a world economic recession looming and climate change already taking its toll on agriculture across the globe, there has been no moment more critical for assuring local food security in a sustainable way. To be able to do so without having to depend on outside resources, economic markets and government policies is no easy feat, but a possible solution does exist.
Biointensive farming builds on thousands of years of knowledge, culture and experience from civilisations around the world to create an integral and ecologically sustainable method for growing a complete human diet in the smallest amount of space. With just limited organic fertilisers, no pesticides, machinery or external energy inputs, food is grown using the power of nature alone.
EcoBASE, according with the principles taught by Ecology Action in California, supplies training and facilitates workshops for farmers and field staff in how to grow complete diets with nothing more than a spade, a fork and a handful of open-pollinated seeds.

EcoBASE is an independent consultancy formed by an international development worker with several years' experience working in developing countries, adapting to different cultures, communicating in different languages and experiencing first hand the consequences of international development aid. EcoBASE has the skills and flexibility necessary for development work and the means to apply them in order to secure humanity's most basic need - Food Security.
Training topics include:
Philosophy Behind Sustainable Agriculture (World Situation)
Seeds
Compost
Bed Preparation
Sustainability
Seed Propagation



Pest Control
Principles of Biointensive Farming


Diet and Garden Design



Food and Agriculture News
---

Click Here
for links to news and articles.
(Use the "tags" on the right hand side of the page to choose a topic).